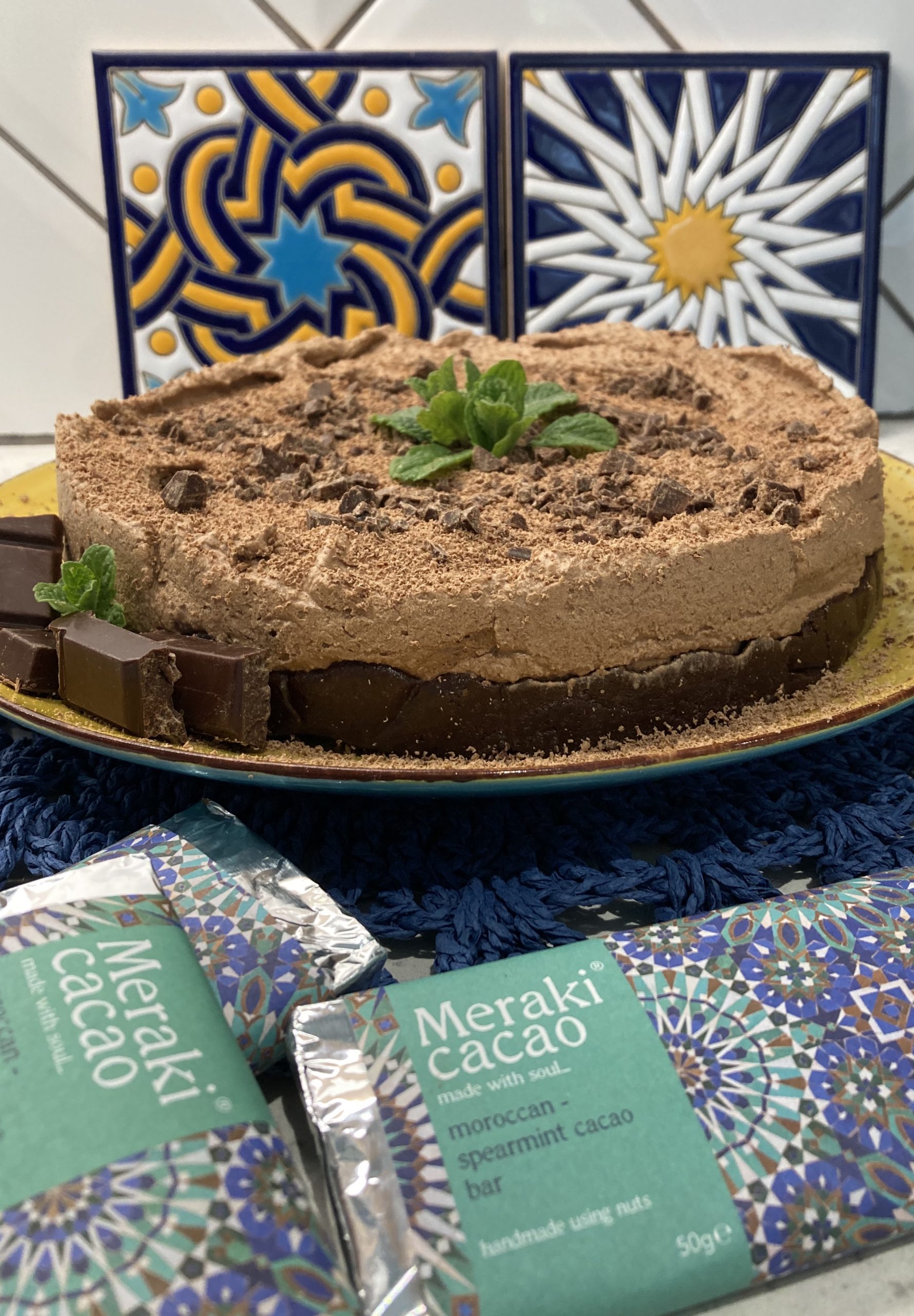 This is a delicious plant based cheasecake made from a base of dates and nuts, with a creamy cacao minty filling! It can be made as a large cake as shown in the photo, or in individual ramekins.  If you are using individual ramekins it should make around 12. You can store it in the freezer and take out as require (portion the large cheasecake before freezing if you want to), just allow to come to room temp before serving.  Or you can store in the fridge for a few days.  It is very simple to make too!
Ingredients
Base
1 cup of pitted dates – if they are a bit dry soak in warm warm water til soft, then drain water away before using
2 cups of nuts – walnuts, almonds, hazelnuts or a mix
3 tablespoons of raw cacao powder
Filling
11/2 cups of cashews (soaked overnight in cold water or for a few hours in boiling water)
1 packet of silken tofu (we used Clear Spring) or 1 can of full fat coconut milk
1/4 cup of maple syrup (optional if you like a sweeter dessert)
4 bars of Meraki Cacao Moroccan Mint bars (melt over a bain marie or gently in the microwave)
Method
Criss cross the base of a springform cake tin with 2 long strips of greaseproof paper so they cross the base and come up above the sides of the tin.  Place a circular piece of greaseproof paper the same size as the base over the criss cross and base of the tin (do the same for each ramekin if you are making individual cakes).
Make the base – place dates, nuts and cacao powder in a blender and blend until they all come together and form a ball.
Press this mix around the bottom or the tin or ramekins in an even layer.  Place in the freezer to set whilst you make the filling
Put the cashews, tofu (or coconut milk), melted cacao bars in the blender and blend until smooth. 
Take the base out of the freezer and pour the filling evenly over the base
Place in the fridge or freezer until set
To remove the cheasecake, lift it out of the tin or ramekin using the strips and place on a plate.  Remove the greaseproof paper.
Decorate the cheasecake with grated and chopped Meraki Cacao Moroccan Mint bar and mint leaves.
Enjoy on its own or with whipped coconut cream or a cashew cream